Programming season has begun and our first weekend of Horsey House Calls was a success!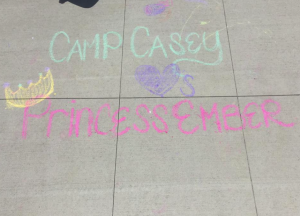 Saturday, June 4, we served Cowgirl Ember in Southeast Michigan and she loved the day! She wasn't afraid of Queen B, our Hero Herd horse, at all, and she came right outside when we knocked on the door.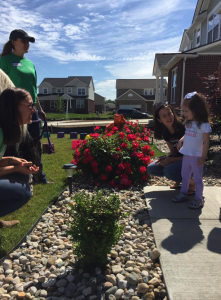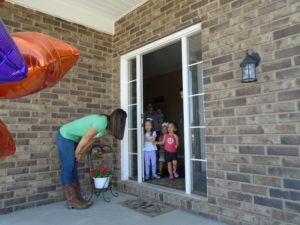 Ember really loved riding Queen B too and said that she even liked how "bumpy" it was.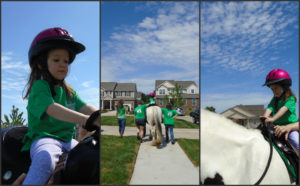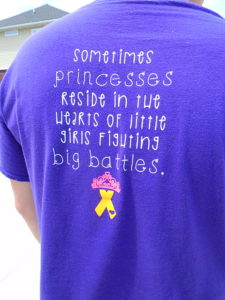 Ember's family had on homemade t-shirts in support of Ember's fight. The front of the shirts said "Team Princess Ember," and the back said, "sometimes princesses reside in the hearts of little girls fighting big battles." The quote is so touching that our staff chokes up a bit every time they read it, and our equine therapist, Emily, said that she will always remember it.
On Sunday, June 5, we had Cowboy JoWi's Horsey House Call and it was our first in Grand Rapids!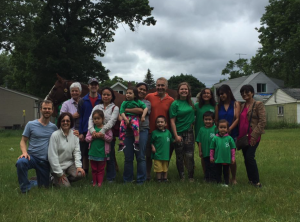 JoWi had a ton of fun! He answered the door through the mail slot… the only thing our equine therapist, Emily, could see where his two big eyes! He came out to meet Zip, our Hero Herd horse, with a big and excited smile. He couldn't stay away from Zip for the rest of the day.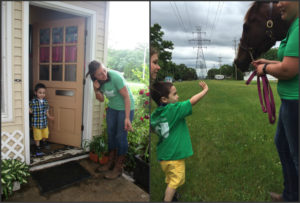 JoWi went for two horseback rides and enjoyed every second of it. At one point he said "yee-haw" with us, but then started saying "yippie kay-yay" with his hands in the air and a big bright-smile on his face. He kept shouting "yippie kay-yay" for the rest of the Horsey House Call, and his personality and excitement kept all of our staff and volunteers laughing the whole time.
JoWi's dad sent us this image after the Horsey House Call.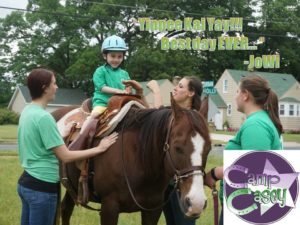 We know the rest of the summer is going to be as great as our first Horse House Call weekend, and we can't wait to bring the healing power of horses into more kids' lives!