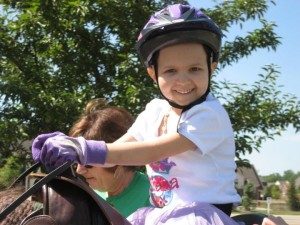 With the holidays in full swing and the new year right around the corner, it's time to stop, look around and appreciate what we have. Camp Casey had a tremendous season, and we couldn't be happier to have served over 700 people, a record breaking number. We are so thankful and blessed for our amazing volunteers and board members. They helped make 2015 an incredible season that will give us happy memories for years to come. That being said, 2015 also brought heavy hearts, as some of our cowboys and cowgirls earned their angel wings. Our thoughts and prayers are with their families, as they always are, and we hope they remember the incredible impact their little ones had on this world. We at Camp Casey will always remember their sweet smiles and cheerful laughs.
In 2016 we hope to have another record breaking year. We are excited to announce that we will be expanding our Horsey House Calls program to the west side of the state. We are currently raising funds for a new truck and trailer so we can keep them in West Michigan. We are setting out to complete 10 Horsey House Calls that will serve children from Helen DeVos Children's Hospital in Grand Rapids, and 25 Horsey House Calls in Southeast Michigan. If you, or anyone you know, lives in the Grand Rapids area and would like to volunteer, please let us know. We are in need of a volunteer base in West Michigan in order to complete these Horsey House Calls.
There is nothing more rewarding than walking up to a child's door with a horse, watching them slowly open the door, and seeing their bright, yet hesitant, smile stretching from ear-to-ear. Camp Casey has been honored to be part of so many children's lives over the years. There are no words that describe the feeling of seeing a sick child mounted on a horse, and knowing for that for a few minutes, they are just a child again. There is something about horseback riding that makes you feel free, powerful and strong; feelings that these children deserve to feel while going through the hardest times in their lives.
Cheers to 2015, and yee-haw to 2016! The Camp Casey team is excited to get the new programming season started.  Happy Holi-neighs everyone!