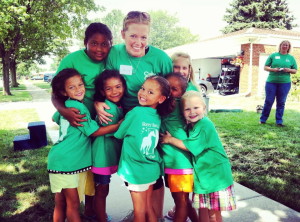 We are fortunate to have an incredible volunteer base. Our volunteers are the core of our charity, and without them, we wouldn't be able to serve as many people as we do. Because of that, we wanted to give back to them for once. On January 13, we teamed up with Emagine Theater, Royal Oak to give our volunteers and board members a fun night of bowling, pizza and popcorn!
The event started at 5 p.m., and as the volunteers and board members started arriving we started bowling, talking about the 2015 season, and the wonderful things that are coming in 2016. We were grateful that we were able to talk with some of our biggest supporters about what the new year has in store for us, and the ways that Camp Casey has developed over the years. It was nice to gather in a room and talk about our lives, as well as the lives that we have impacted together. It connected our volunteers, staff and board members in a relaxed and fun setting. We know we are lucky to have such amazing people supporting Camp Casey and the children and families that we serve. Seeing the people that make Camp Casey the program that it is all in one room together, brought a humbling and content feeling upon us. It made us pleased with where we have been, and made us excited for everything that we will be able to accomplish together in the future. We could see, that with the help of our volunteers, supporters and board members, 2016 is going to be a year to remember!
Thank you to everyone that supports us each year. We are able to bring the smiles and memories to these children because of you. We are happy that everyone had fun at the Grateful Get-Together and we hope to do it again next year!