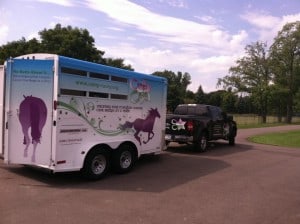 March 1st means that spring is right around the corner. At least we hope that's the case. Spring is always a promising time of year; it signifies new beginnings, growth and change. The best part about spring though, is that it means our programming season is only a few weeks away. There have been a lot of changes at Camp Casey over the years, and every season seems to bring new hopes, challenges and rewards. Spring 2016 is filled with all of those things and more. This year being our first year to launch a satellite location has made 2016 one of the most interesting years yet.
In the beginning of February, we launched our crowd funding campaign to raise money for a new truck, trailer and supplies so we can gallop west. It has been an exciting ride so far, and with three full months remaining, we know that we will get there. But we still need all of our supporters' help.
We can't wait to pull up to our first house in Grand Rapids and knock on the door of one of our new cowboy or cowgirl's home, and see the smile spread across their face. We know that once this happens, all the work that we have put into this expansion will seem like nothing compared to the few short hours that child gets to be a kid again. We couldn't be more thrilled for the programming season to get started, and we know that although Grand Rapids is our first expansion, we could be nationwide before we know it.
We have also gone full speed with planning our 2016 fundraisers. With the Seventh Annual Cowbell Pub Crawl only a month away, and only seven months until the Gold Rush Gala and eight months until the Run to Ride and Trail Ride Cook Out, we know that this year is going to go by pretty fast for the Camp Casey Crew. But we know that this year will also allow us once again, to continue bringing the healing power of horses into the lives of more children with cancer.
Spring is about to be sprung, so let the new journeys and programming season begin!