Hay, hayyyy, y'all!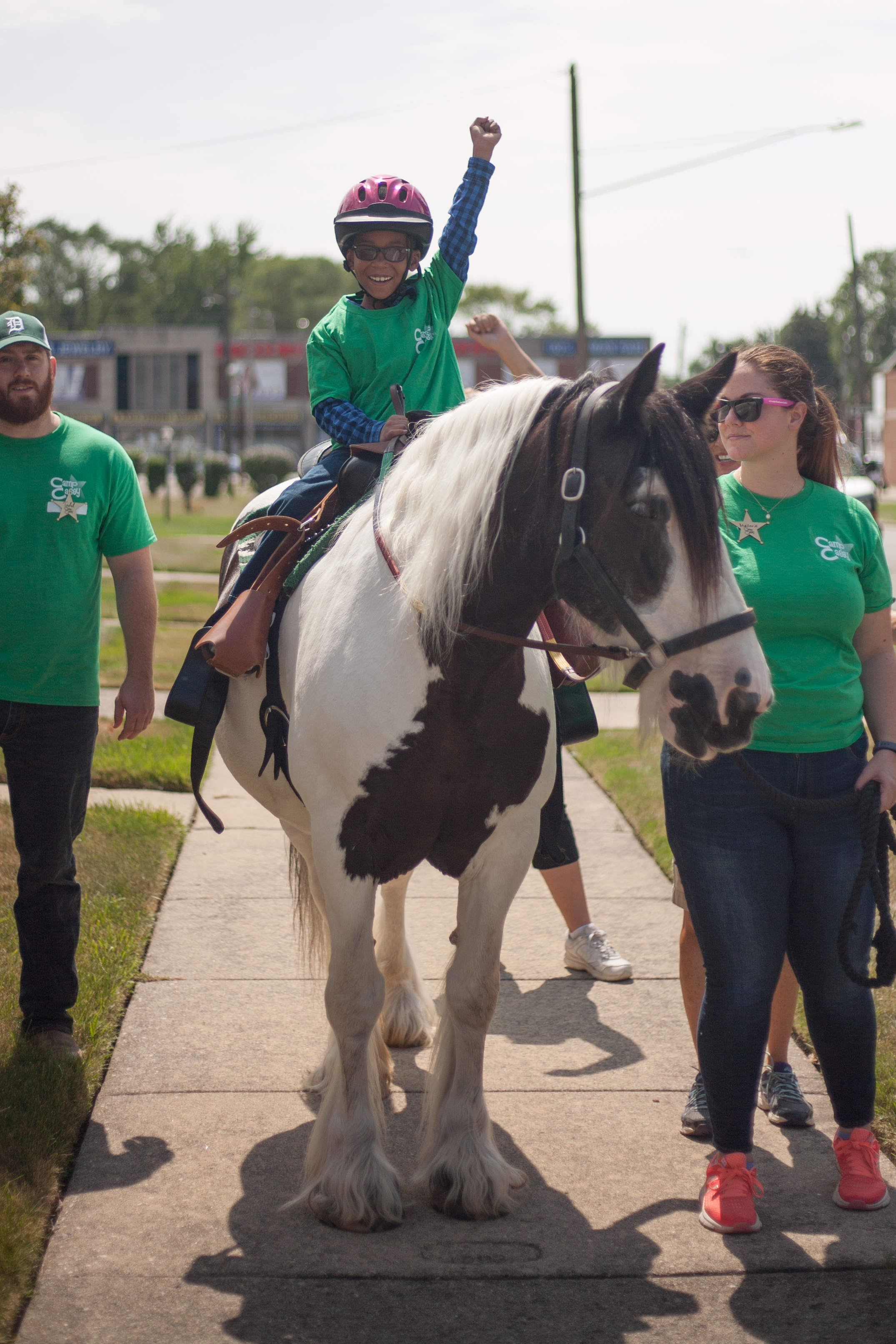 My name is Blaithin, but my Camp Casey friends like to call me Queen B, and I'm so proud to be one of Camp Casey's Hero Herd horses. I love my job, which is a good thing because I'm usually out on a Horsey House Call every Saturday and Sunday all summer long. I'd like to tell you a little bit about my rewarding work, just in case you know some other horsey friends who'd like to train for the job.
I live in a little, dry paddock in Warren. Every week in the summer, when the sun is up, that big, black truck with the green and purple trailer pulls up to my barn. These people who are always dressed in green t-shirts come and get me ready, then load me in the trailer. They always make sure I have lots of hay for the ride, which is good because I'm usually VERY hungry (practically starving), especially when we have an hour-long ride with people honking, waving, and giving us thumbs up as we pass them on the road! I always get so excited during the car ride because I know when we get to the destination, I get to surprise a little buckaroo who's not feeling so great and I really do my best to give them an awesome day. Plus, I really like to eat their grass.
When the trailer finally stops, I peek through the little window. You know, I really wish they'd make that thing bigger so I could stick my whole head out! It always looks different when we get there; sometimes there are cute, little houses in a subdivision, other times we are in a busier city with lots of cars and noise. I've even been to someone's apartment building before! But I know that no matter where we are, there are always kiddos who gets super excited when they see me! More of those people in the green shirts arrive and they all meet while I finish eating my first serving of hay in the trailer. A lot of times, I let them know that I'm ready to get going by tossing my hay net around. They usually get the hint that I'm ready for my grass snack!
Once I get out, I walk around the neighborhood with my new friend for the day. If I see something weird or creepy (like a fire hydrant or construction site), I let them know I'm not keen on it and we pick a better way to walk. While I'm waiting for my green-shirted friends to set up the tables and stuff, I chow down on the grass. My gosh is it delicious! It's a good thing my Camp Casey friends are strong because sometimes they have to wrestle me away from the grass when it's time to start the activities. I can't help myself – I'm a big girl with a big appetite!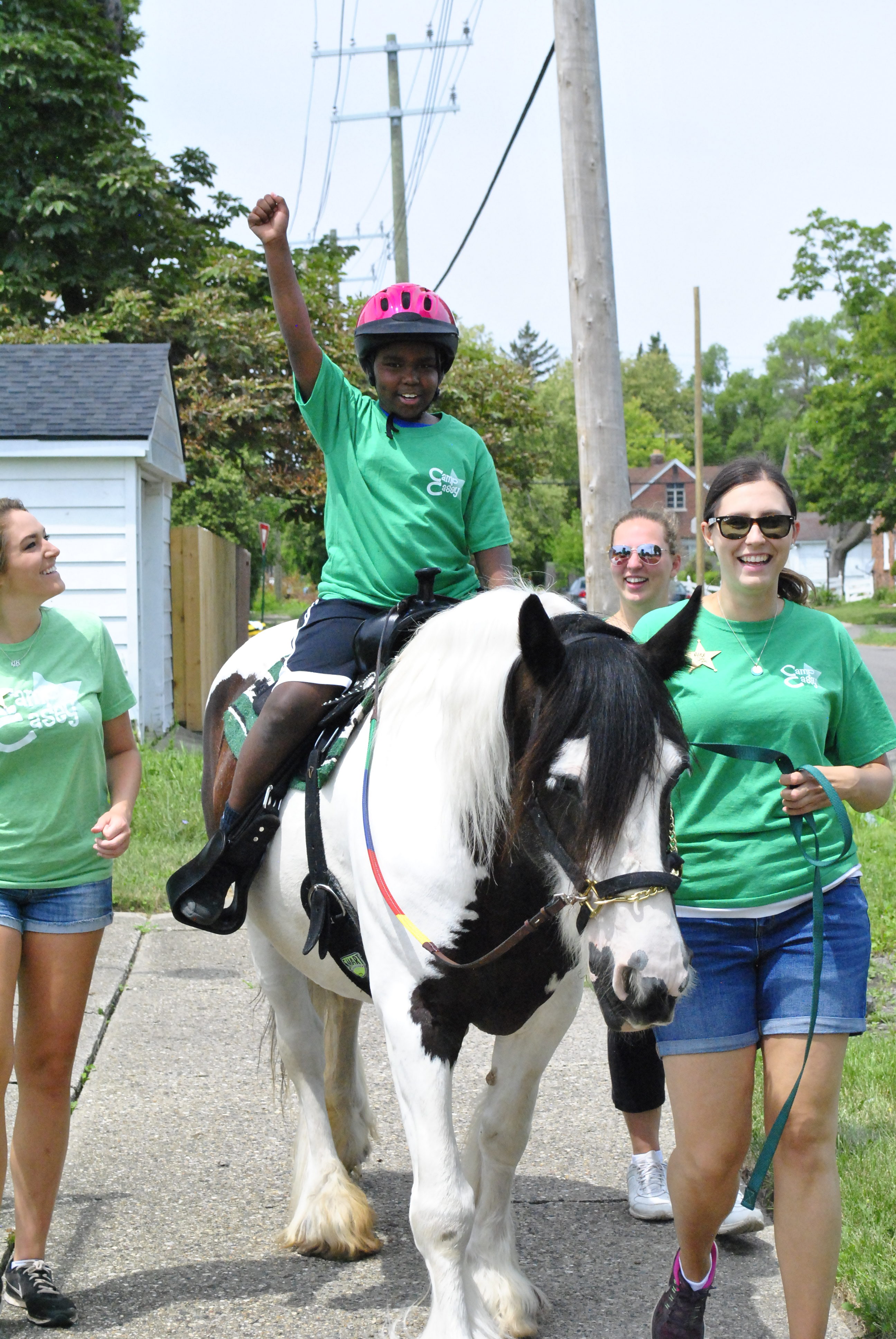 To start the day, I march straight up to the door. I don't think people really understand how big I am; sometimes I don't even fit on the sidewalk or in between the bushes. I really wish I knew how to climb stairs because sometimes it's so hot outside, it would be nice to make my way inside and cool off in the air conditioning! The kiddos are always so surprised to see me….it's like they've never seen a horse at their door before! Sometimes they scream in excitement and start to give me lots of pats on the nose (my absolute favorite, especially when their little hands tickle my whiskers!!) and other times, they are more shy and wait for their mom or dad to come with them. It's my favorite when they're kind of shy because I get to prove to them that horses (especially me!) are really nice!
After we go to the door, that one extra bossy lady in the green shirt (the same one that picked me up and drove the truck) starts talking to all the kiddos as they come out of the house. They always look so cute sitting on those little buckets listening to the rules and instructions for the day! One of my favorite parts of the day is the grooming lesson because all the munchkins get so brave when they come up to brush me, and boy, oh boy, does it feel nice! The tall ones reach all the way up to my back and get that hard to reach spot right on my tushie, while the small ones wander up and get right in that tickle spot on my belly! I have to work really hard at standing still so I don't bump any of my little friends with my big booty! I really like to play jokes on them and shake my whole body from my mane to my tail; that always gets 'em giggling!
Once I'm nice and clean, my work for the day starts. I get all saddled up and take all my new friends for rides while strutting my stuff and showing off that shamrock tattoo I have on my rump. Most of the buckaroos have never been on a horse before, but when they get up in my saddle and hold onto the reins, you would never know! It's hard work walking up and down the sidewalk so many times, so I like to lighten my load by leaving a special surprise for one of those green shirted people to pick up, if you know what I mean 😉 . They never look very happy, but a girl's gotta do what a girl's gotta do! All those weird looking tiny, barking horses like to press up against the windows or fences and say hi to me, but I never mind and sometimes I'll even snort back to say "hi!".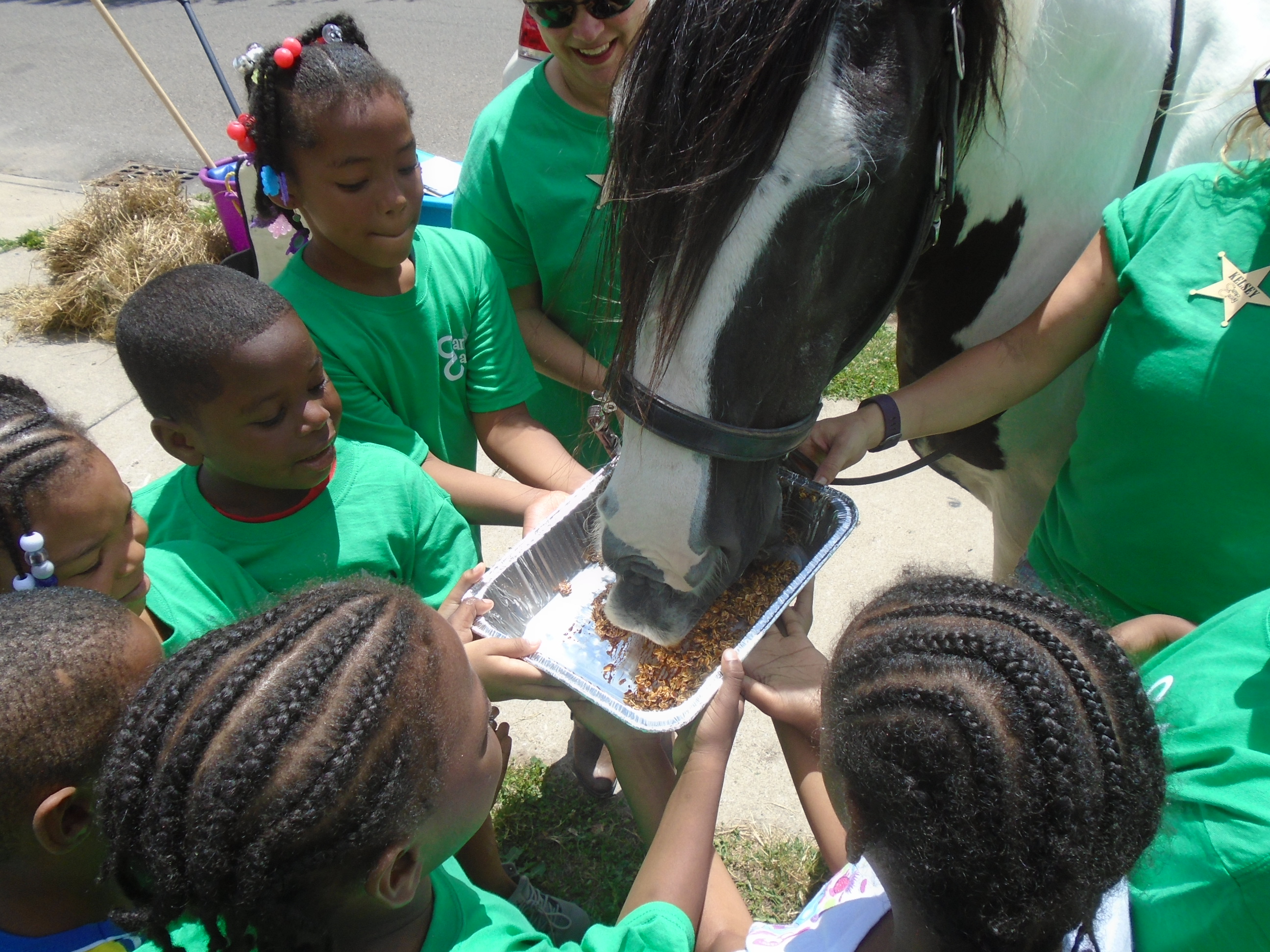 When my work is done, my feet start prancing and my mouth starts watering because all those campers made me some delicious brown mush filled with love and kisses! They try to make me stand still to take some pictures but I know what is coming next. It's so sweet that I like to gobble it down then share it with all my friends. They never look happy when I drop some of that mush on their heads or slobber on their arms. I could probably spend all 2 hours licking that bowl clean. One time, I saw Molly trying to eat some of my mush and daring some of the other kiddos to try it too. I wasn't very happy that they were eating MY dessert! After all, I work really hard for that and don't you green shirted people get to eat that pizza stuff anyway.
The campers never look happy to see me go, but once I'm all packed up in the trailer, I like to look out my little window and see them waving and shouting goodbyes! It's a good thing I have these big ol' ears so that I can hear what every single kiddo is saying! It's amazing how fast our 2.5 hour visit flies by. By the end of the day, I'm pretty exhausted and usually excited to get home. Also, it's usually dinner time when I get back to my barn so, there's that. I have to eat a lot so I can stay big and strong for these kids, ya know!
I really love my job with Camp Casey and hope they'll keep me on staff for years and years to come. It's been so cool to help make these kids forget they're sick – even just for the day. It's a long winter without my Camp Casey friends, but once it starts to warm up, I'm always happy to see that truck and trailer rolling up the street again and starting it all over!