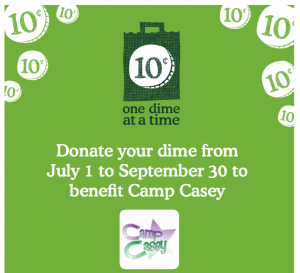 Whole Foods Market selected Camp Casey, a Michigan based nonprofit horseback riding program for children with cancer and rare blood disorders, as their charity recipient for their One Dime at a Time Program from July 1, 2016 to September 30, 2016.
A 10 cent refund is given for every reusable bag used while shopping at Whole Foods Market, and through the One Dime at a Time Program shoppers have the opportunity to donate it back to the chosen charity. Camp Casey is the selected organization for all Oakland County Whole Foods Markets (West Bloomfield, Troy, and Rochester), as well as the new East Lansing store for the remainder of the summer.
Camp Casey has been helping kids conquer cancer for over 12 years. Their signature program, Horsey House Calls, takes a horse right to the door of a sick child's home and surprises them for the day. Equipped with a therapy horse, Equine Therapist, and trained volunteers, Camp Casey's Horsey House Calls provide a day of respite to children with cancer and their families; the 501c3 nonprofit offers a horse lesson, horseback rides, pizza party, craft projects, games and more, all in the family's yard, and at no cost to the participants.
"We serve countless families throughout Michigan, and to have the chance to partner with Whole Foods to bring the healing power of horses into the lives of sick children is incredible," said Executive Director and Founder of Camp Casey, Molly Reeser. "The funds and awareness this program raises will help us reach more children across the state, and possibly even beyond."
The nonprofit hopes the Whole Foods' program will additionally help gain awareness across the community as well, and they plan to hold small in-store events in the four stores throughout the three-month time frame.
To help Camp Casey reach more children, grab a bag and start shopping at one of the four Whole Foods Market locations!