As I stand here having my back and shoulders brushed, I reflect back on my last Horsey House Call…
On Wednesday, June 22, I surprised another sweet child, Cowboy Jameson, on his doorstep. I have done many Horsey House Calls before, but this was an extra special day.
When our Equine Therapist Charlotte knocked on the door my heart began to race; I couldn't wait to see Jameson's smile on his face! But, when Jameson finally opened the door, his expression was not what I expected.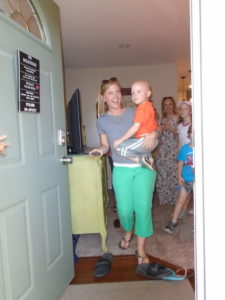 He looked surprised to see me standing there, but he didn't seem to have an interest in riding me. He smiled and then hid underneath his mom's arms. I was a little discouraged, but it was at that moment my goal for the day became clear.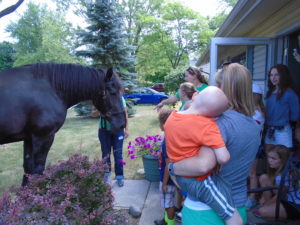 As a Hero Herd Horse, my job is to make sure all the buckaroos at the Horsey House Call have a great time, especially the child battling cancer. My personal goal for the day was to make sure Jameson went for a ride and had a great time. No matter what, I wasn't going to leave that Horsey House Call until that cowboy came riding with me.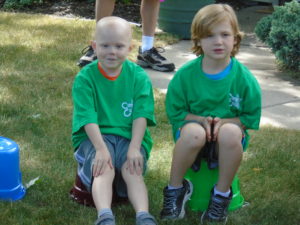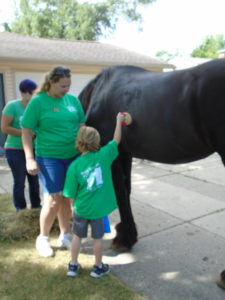 I kept thinking of different ways I could impress him. I figured if I did a great job while his sister and friends went for their rides, he might give me a chance. So, I stood tall and proud, and made sure to look extra nice.
After Cowgirl Charlotte was done explaining the rules to the children and parents, it was my moment to shine; it was time to show off my skills to Jameson! I took a big bite of hay and then stood up straight as the first rider climbed on my back.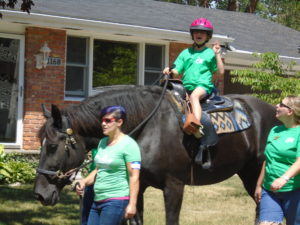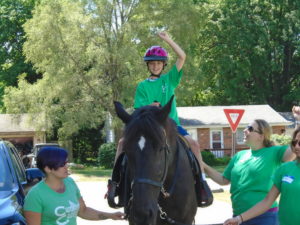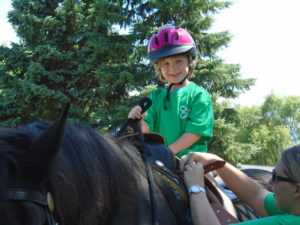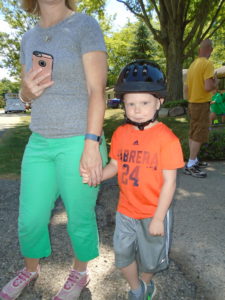 Even though Jameson wasn't the first one to take a ride, I kept looking back to let him know I wasn't going to forget about him. After the fifth rider had her turn, he still didn't look interested, and I started to lose hope. But as I stood there, feeling defeated, something magical happened! I looked up after taking a drink of water and Jameson was standing closer to me. He didn't look scared anymore, he looked determined and excited! I could see him thinking, maybe even wondering if he could manage to conquer his fear and go for a ride. I just stood there, patiently waiting for him to make his decision. I looked in his eyes and I tried to let him know that he will be okay.
And then it happened, Jameson finally decided to go for a ride! Feeling his little legs on each side made me so happy!  I knew that he had finally given me the opportunity to help him conquer his fear, give him hope and feel free. I slowly started walking, and I could feel him giggling on my back and then yell, "Yee-haw!".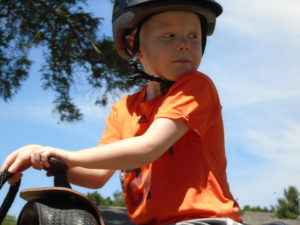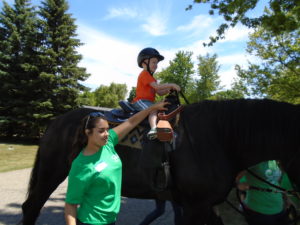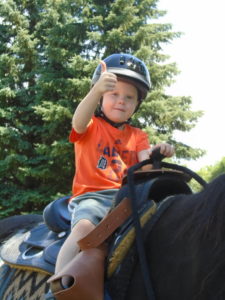 I started to relax as I walked through the street because I knew I had accomplished my goal, and I had made Jameson's day.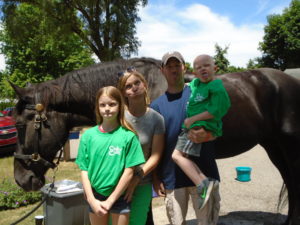 I am so happy that I have the opportunity to make children battling such terrible illnesses happy for a day. It's in these moments when I realize that being a horse is the best thing in the world.
If I had the chance to do a Horsey House Call every day, I would. It is the smiles and courage these kiddos show that make me giddy-up for joy!
I am ready for that green and purple trailer to come pick me up for my next Horsey House Call. Until then, I'll be waiting here, enjoying the sun, and chowing on some good ol' hay.