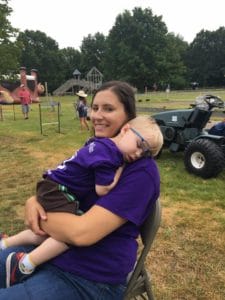 This has been a summer of Camp Casey firsts for me. Not only was this my first summer experiencing Horsey House Calls, but it was also my first time attending our Cowboy Camp Outs. Now that both Cowboy Camp Outs are wrapped up and our Horsey House Call season is (kind of) winding down, I'm starting to feel like an old pro!
I want to tell you a little bit about last weekend's Cowboy Camp Out…
Saturday morning was the scheduled time for our hour-long trail rides. I prepped the families by telling them to, "wear long pants, be sure to fill up on your breakfast and get ready to feel the burn after your ride." I loved seeing this one dad just as giddy as his kids while looking to him to keep them calm and collected. Each of our campers came back from their ride with huge smiles of pride and accomplishment on their faces. Some were excited about learning how to command their horse and others were happy they just got their horse to stop eating the grass!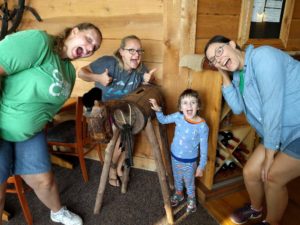 At campfire on the second night, we asked the kids to participate in a game using blankets given to us by our nonprofit friends at Fleece and Thank You. Not knowing what they were volunteering for, almost every kid had their hand in the air. We asked our first volunteer to tell us his favorite part of the weekend. He did so with a smile (and marshmallows!) smeared across his face. We then asked him to pick a friend to share their favorite part of the weekend. He immediately turned to his new friend, who was about seven years older than him, and they both giggled and hugged. He then got to pick out a blanket and she told us her highlight, and the game went on until everyone had a chance to share and pick a blanket. These kids made real connections with their new friends in less than 24 hours! It was such a special sight.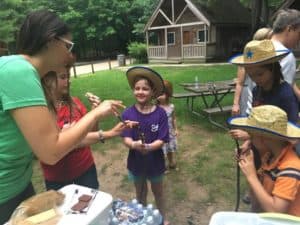 I grew up spending summer days outside with my family on camping trips, dreading blister filled hikes, and washing off in one of our Great Lakes. These memories have now created a sense of necessity for my adulthood. There is nothing I crave more than getting knocked over by waves in Lake Michigan, smelling bonfire soaked clothing and crawling into a semi-waterproof tent.
Camp Casey brings the essence of those memories to children who may never have experienced being away from the comforts of their home or roasting s'mores. The emphasis of meeting new people around a common bonfire is a unique experience for families to bond over personal struggles. The mom of one of our campers told me, "she had never had an experience that so quickly allowed her to open up to others about her son." She said she, "never felt forced or uncomfortable sharing intimate details." Wow!
The ability to bring families together from all different backgrounds to laugh over their first time on a horse or their first time going away in months was such a gift.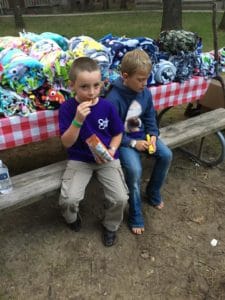 The eighteen families I was lucky enough to meet over the summer were truly special people going through extremely trying times with their children and families. This weekend was a time for them to forget about the hospitals, the nurses and doctors that take such amazing care of them, and just enjoy a few days of fun with families going through similar situations.