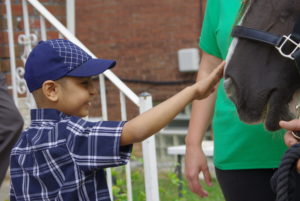 Well, here it is, cowboys & cowgirls: the end of our 2016 programming season. I can't believe we have another record-breaking year in the books! Words cannot express the gratitude we have for all of our outstanding supporters and volunteers who stepped up to make this season happen. Between the Metro-Detroit Area and the Greater Grand Rapids Area, we put on 35 Horsey House Calls – whoa, Nelly! That means that 210 big-hearted people jumped in to help bring smiles to over 1,000 deserving people. We are so lucky to call these wonderful people our friends and volunteers!
What's that you say? You've never volunteered with Camp Casey before?! Here's a little glimpse of what you're missing, according to just a few of our outstanding volunteers.
"I have been volunteering with Camp Casey for many years. As someone with ZERO horseback riding experience, I love that I can be involved in the healing power of horses without actually being involved on the horse side! The child we serve, and their friends and family have the best day. It is such an amazing organization to support."
– Andrea, volunteer for 12 years
"It was an amazing experience! I thought it might be a nice way to spend some time around horses and do something good, and had no idea how quickly I'd look forward to each Horsey House Call. I still love spending some time with the horses, but I think I really just love seeing the excitement on the kids' faces and hearing them chatter away during their rides. I can't wait for next season!"
– Kristin, volunteer for 1 year
"Camp Casey/Horsey House Calls have combined my joy with horses and my joy of helping others. After the event, I am thankful to the organization for providing an awesome day for children and their families. Truly, truly your organization is making a difference!"
– Chris, volunteer for 1 year
"To see the look of sheer joy on a child's face, one that has been fighting for most of their life to stay alive, that is why I love volunteering. You can feel the weight lift off the entire family for just a few hours and everyone feels normal for a little while. This hits close to home for me, and I can't express how beautiful of a day that it can be."
– Amanda, volunteer for 2 years
If you thought those testimonies were good, just wait until you read what our Camp Casey families had to say about their special Horsey House Call days! You might want to grab a tissue…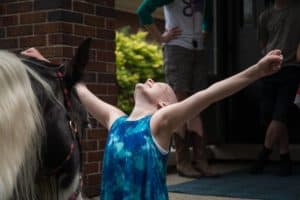 "I cannot say enough good things about the Horsey House Call! I think my favorite moment was the expression of complete joy on my daughter's face when she realized she was going to get to ride a horse—at our house yet!!! She had so much fun—I told someone else that for that afternoon, I honestly think she was able to forget she has cancer, if only for a little while. What an incredible blessing. Without exception, all the volunteers were so kind and friendly. It is clear to see what a labor of love it is for all of them and we were the lucky recipients. What an amazing, amazing experience and gift!"
– Annette, mom to 11-year old Svea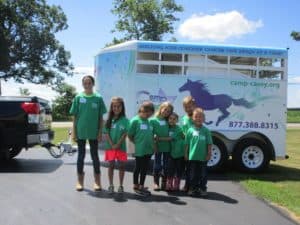 "We had a Horsey House Call today for our Daughter, Kaylee, who just beat her battle with liver cancer in May. Camp Casey did an amazing job and the kids and adults all had a wonderful time! Thank you again so much, this will be something we will never forget! The whole process was amazing! From the horse at the door to being able to sit back and relax and enjoy the day with my daughter and our family and friends!"
– Stacy, mom to 4-year old Kaylee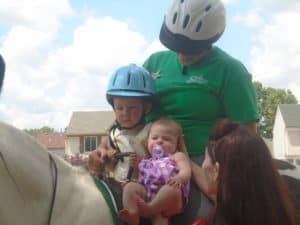 "HUGE thank you to Camp Casey and the volunteers for Mara's Horsey House Call today! She hasn't stopped talking about the horse since you left! The volunteers were perfect and very accommodating. We love what you do and are so grateful to be able to experience this program!"
– Lauren, mom to 2-year old Mara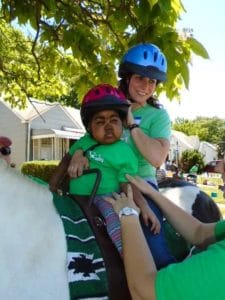 "My daughter Jordynn was diagnosed with DIPG, in inoperable and terminal brain tumor, and was given a Horsey House Call from Camp Casey today. This was one of the best things that she's had since her diagnosis. She was literally all smiles the entire day. Our favorite part was opening the door and seeing humongous horse right outside the porch! All of the kids were so excited it was such a great day for everyone.I think it's so amazing what this organization does for kids who don't get to necessarily feel like kids anymore. We are forever grateful and we will never forget that incredible day!"
– Janitra, mom to 3-year old angel, Jordynn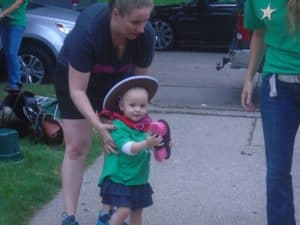 "I can't begin to express how awesome it was to have Camp Casey and their therapy horse come visit my daughter. Everyone was so pleasant, kind, fun, energetic and polite. I am elated that we could be a part of this charity. When you go through all the pains of childhood cancer and see what your child has to endure it brings a deep sadness. Camp Casey shines a ray of hope. Once your child sees that horse and gets so excited it helps remind you that the fight is all worth it. And I want to thank Camp Casey for that gift!"
– Rachel, mom to 2-year old Estelle
How on Earth did I manage to turn this season wrap-up post into a volunteer recruitment post? I guess I really can't help myself! It's never too early to get signed up to volunteer with us. Our 2017 programming season will commence in June, and we need your help! Get yourself registered and trained by clicking here today!